Road of Dreams Photomanipulation Tutorial

Seiorai
Member since:
Mar 2011
Rating
Required Files
Final Image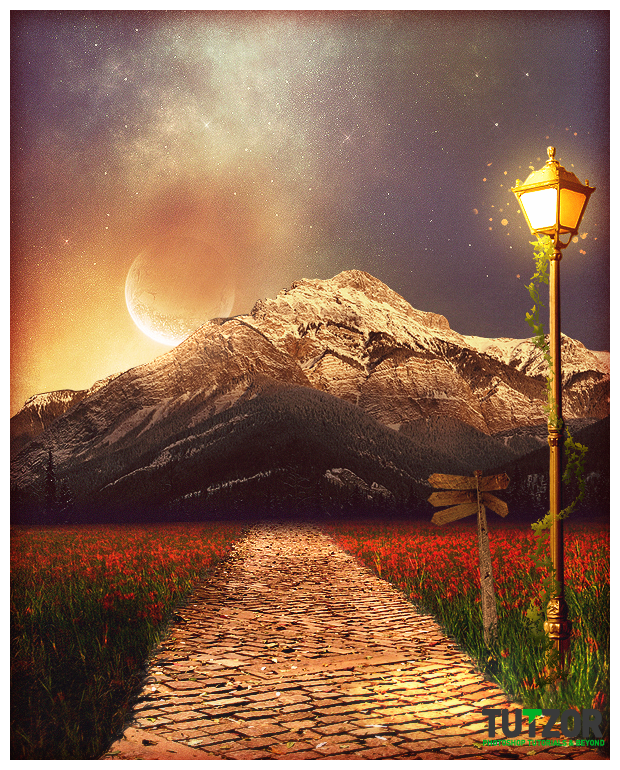 Seiorai
Member since:
Mar 2011
Alright, first we will create a new canvas, say about 600px wide and 750px high. Then go and download this baby: http://resurgere.deviantart.com/art/Package-Nature-10-22586739 Unzip it and look for "nature10_3048.jpg". Open it in your Photoshop/GIMP/etc and resize until it covers 2/3 of your canvas (the bottom of it) like so (don't mind the white part, that's blank space because I saved as jpg instead of png hehe) :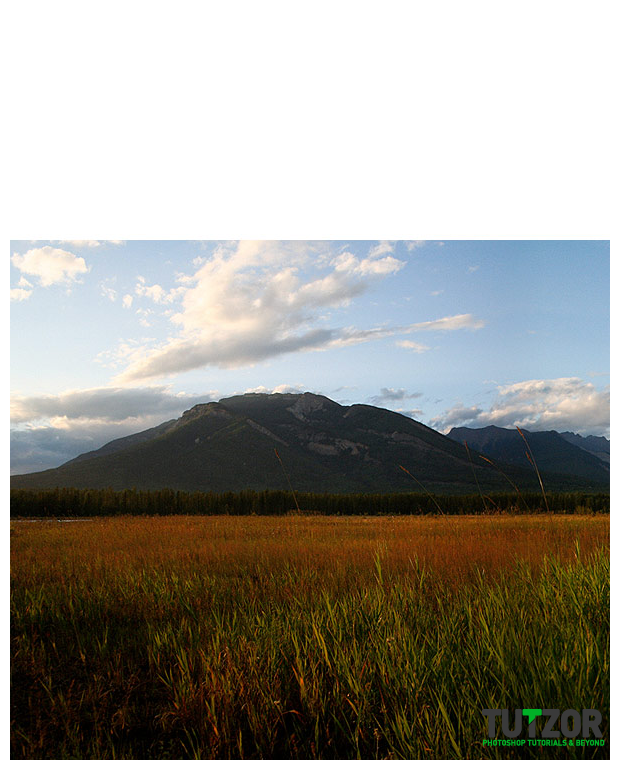 Seiorai
Member since:
Mar 2011
Kay, next we need to delete that mountain, we won't use it. It's up to you whether you use shape layers extraction or good old eraser tool, but this would be the final result, see the clean cut? Name it "Grass".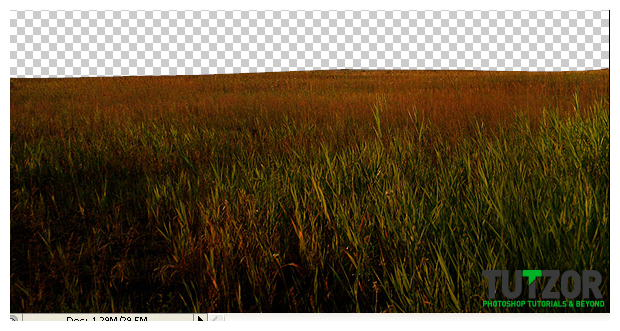 Seiorai
Member since:
Mar 2011
Sweet :) Next, we will add the poppies. Go to http://zanasoul.deviantart.com/gallery/?catpath=/#/d2eumjr and download the beautiful stock, then open it up in photoshop, drag into the main photomanip document, place its layer above the Grass one, resize and move down (so that the largest foreground poppies are not visible). After that, right-click on the layer-->Create Clipping Mask to the Grass layer, of course. Then set it to Overlay mode. Name the layer "Poppies".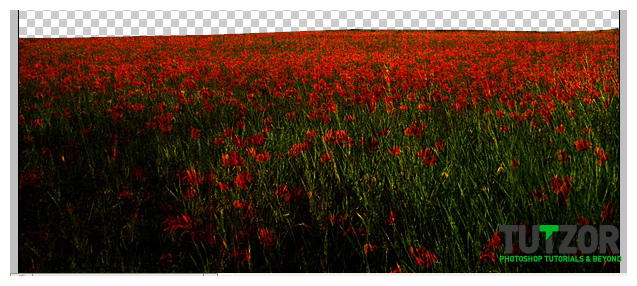 Seiorai
Member since:
Mar 2011
Now make your Grass layer your working-on one (aka, click it to be dark blue color). Go to Layer-->Layer Mask-->Reveal All. Set your Foreground color to #000000 and grab the Gradient Tool (G), setting it to Foreground to Transparent and Reflected Gradient. Position it at the top of the grass and drag a bit upwards like in image 1 below. Then release mouse button and you should get something like in image 2 below:



Seiorai
Member since:
Mar 2011
Grab this photo from http://www.sxc.hu/photo/619781 and open it in Photoshop, cropping just the road. Take the road to the main document then resize it to fit the middle of the grass area perfectly. Position its layer over the poppies one. Right-click on it--->create Clipping Mask. Take the Eraser Tool, grab the "Grass" brush and making your brush a small size delete around the left&right margins or the road so that you get a similar result like this: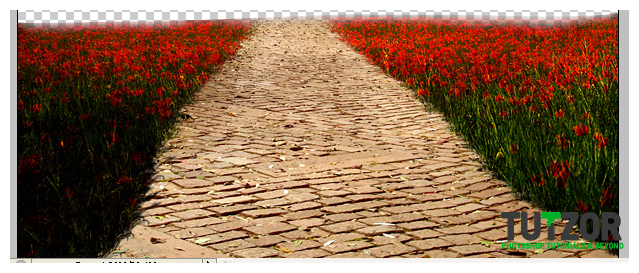 Seiorai
Member since:
Mar 2011
Name the layer "Road". So far so good but our road needs more blending in, doesn't it? Ctrl+click (or Cmd+click if you are on a Mac) on the layer's thumbnail in the layers palette to obtain its selection, then go to Image-->Adjustments-->Color Balance. Give it these settings: Midtones: +41/ 0/ -18 Highlights: +23/ 0/ -18 Shadows: -38/ 0/ +48 And "Preserve Luminosity checked. Lower then this adjustment layer's opacity to about 21% then right-click on it and make it into a clipping mask. Then obtain the Road's selection again only this time go to Image-->Adjustments-->Levels and give it these settings: Channel: RGB Input Levels: 61---0,68---255 Output Levels: 0---255 Make this adjustment layer into a clipping mask as well. Then obtain the Road's selection one more time and Image-->Adjustments-->Brightness/Contrast. Give it these settings: Brightness: +18 Contrast: +12 Lower its opacity to 60% and make it into a clipping mask. This is what you should have now in your image, and inimage 2 below is how your layers palette should look: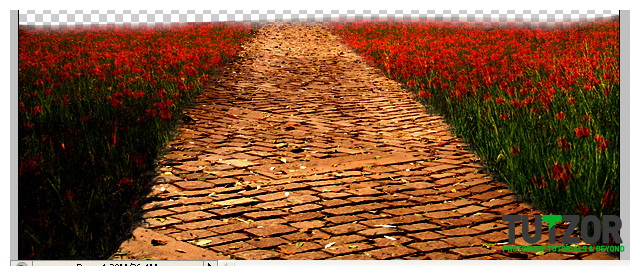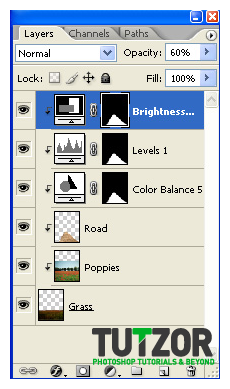 Seiorai
Member since:
Mar 2011
Next, download this: http://resurgere.deviantart.com/art/Package-Nature-14-27074068 Unzip and look for nature14_6270.jpg Open in Photoshop and move the image to your main photomanip document, making sure it is placed at the bottom of the layers palette. Use your favorite extraction method to extract the mountain, then resize and position like so: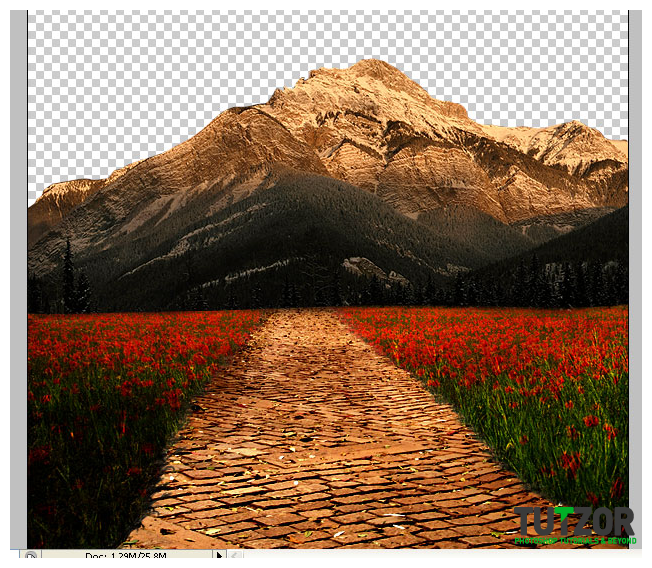 Seiorai
Member since:
Mar 2011
Name the layer "Mountain". Obtain its selection by Ctrl/Cmd+clicking on the layer's thumbnail in the layers palette, then go to Image-->Adjustments--.Brightness/Contrast and give it these settings: Brightness: -6 Contrast: +1 Lower the layer's opacity to about 80% and you can then press Ctrl/Cmd+E to merge it with the Mountain layer :) The obtain the Mountain's selection again and go to Image-->Adjustments-->Color Balance and give it these settings: Midtones: +100/ 0/ +33 Highlights: -36/ 0/ 0 Shadows: -45/ 0/ +1 And Preserve Luminosity checked. You can merge it with the Mountain layer then if you want :) Obtain the Mountain's selection again, and go to Image-->Adjustments-->Photo Filter. Choose color: #008c00 and Density: 81% with Preserve Luminosity checked. Of course, you can merge with mountain now if you want hehe. This is what you should have now: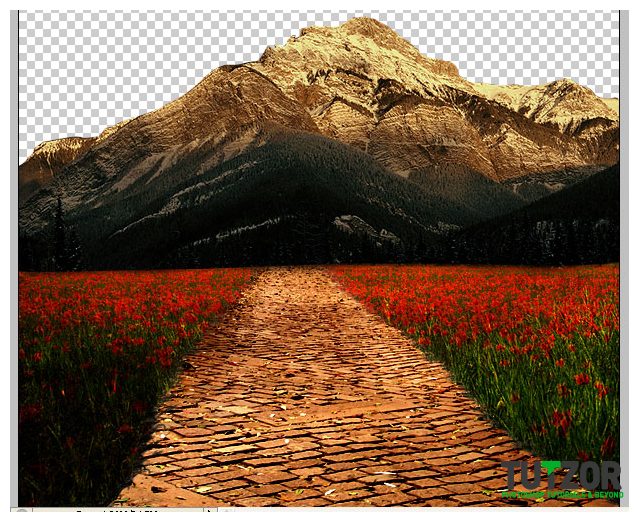 Seiorai
Member since:
Mar 2011
Okay, now go and get this beauty ---> http://resurgere.deviantart.com/art/Package-Cosmos-2-63241815 Unzip..then open the image cosmos2_0006_manip.jpg Crop and scaleand transfer to your main document, moving its layer to the bottom of the layer palette, under all your other layers. Name it "Sky". Then go to Image--->Adjustments--->Color Balance and give it these settings: Midtones: -32/ -29/ -24 Highlights: -44/ -9/ +44 Shadows: -12/ -7/ +2 With Preserve Luminosity checked, of course. You should be getting something like below: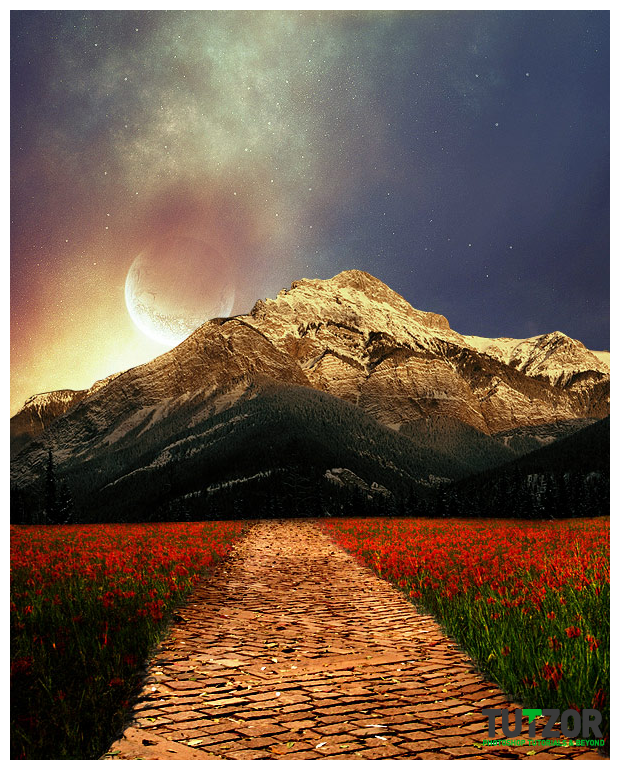 Seiorai
Member since:
Mar 2011
Problem is we don't need to have THE WHOLE canvas in blueish tint, so this is what we'll do: we will set our Foreground color to white #ffffff then take the Gradient Tool (G) set to Radial Gradient and Foreground to Transparent (this is very important!) and drag so that your adjustment layer looks afterwards like in image 1 below (I made layers palette thumbnails larger for better view) : This should give our image a nice look of varied hues, like below in image 2: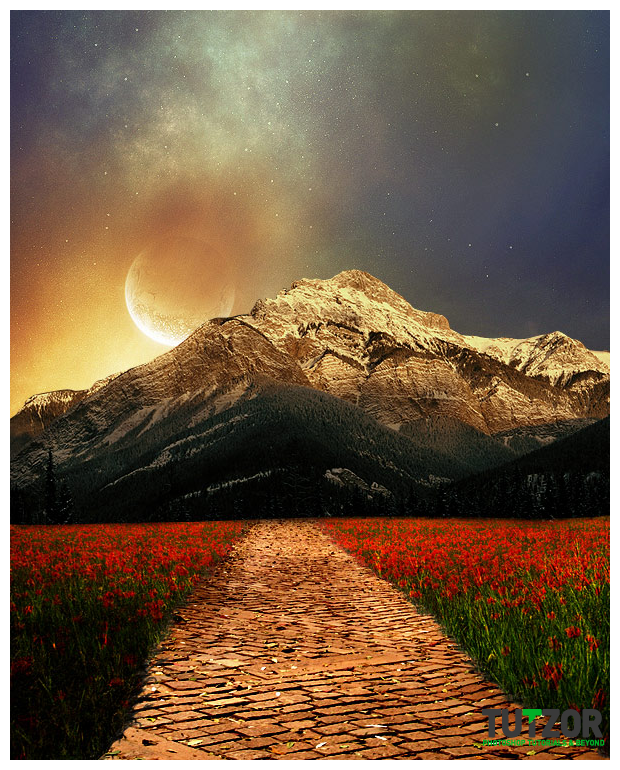 Seiorai
Member since:
Mar 2011
Right, but our poppies field's depth still looks a little weird, doesn't it? We can fix that. Create a new layer and move it so that it is at the top of your layers palette...at this moment. Set your Foreground color to #0a0a0a and grab the Gradient Tool (G) and set it to Reflected Gradient and Foregrouns to Transparent . Name the layer "Horizon Shadow" and with the gradient tool drag like in image 1 below to get a result like in image 2 below:


Seiorai
Member since:
Mar 2011
See how our Poppies fade nicely now? :) Right, now on to the roadsign. Download it from here: http://www.sxc.hu/photo/1175083 Take it to your document and place it on a layer above all your others. Name this layer "Road Sign" Next take the Eraser Tool and set it to the same Grass brush as before (on the Road) and delete a bit around the bottom of the Road Sign, so that you get something like this: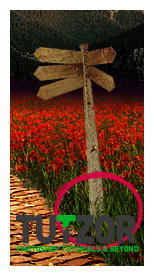 Seiorai
Member since:
Mar 2011
But we really do need to blend it in, poor thing looks so out of place.... To do that we will have 5 adjustment layers, hehehe First, obtain the Road Sign's selection by Ctrl/Cmd+clicking on its layer thumbnail in the Layers Palette. Then go to Image--->Adjustments-->Color Balance and give it these settings: Midtones: +37/ 0/ -25 Highlights: +14/ 0/ -16 Shadows: -21/ 0/ +17 Preserve Luminosity: checked Okay...you can either merge with Road Signs layer or not merge, your choice. Next obtai its selection again, Image--->Adjustments--->Photo Filter, Warming Filter (85) give it a setting of 31% density and Preserve Luminosity: checked Obtain its selection for the third time, this time go to the same Photo Filter option BUT! choose Yellow, density 55%, preserve Luminosity checked. Click OK and then set this latest adjustment layer to Linear Dodge blending mode, Opacity 71% and Fill 20% You should have now something like this: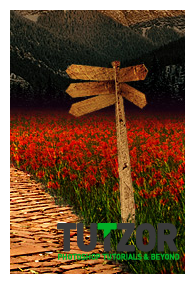 Seiorai
Member since:
Mar 2011
There is still too much light on the sign so let's obtain its selection yet again, and this time choose an Image--->Adjustments--->Levels with the following settings: Channel: RGB Input Levels: 0/ 0,81/ 255 Output levels: 0/ 255 Then lower this Levels layer's opacity to 55% .............next, the last adjustment, I promise hehehe :) Obtain the Road Sign's selection again and go to Image--->Adjustments--->Curves, and give it these settings: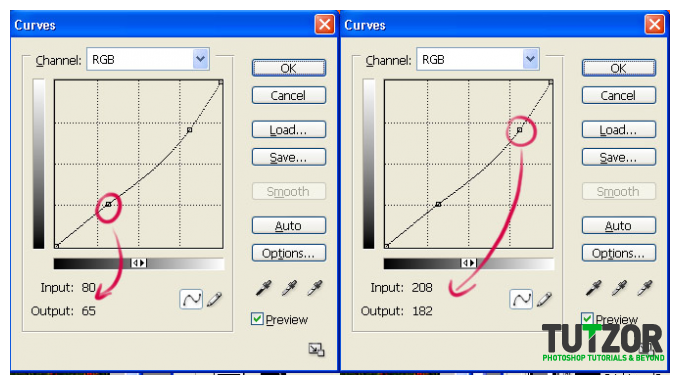 Seiorai
Member since:
Mar 2011
Awesomely done, now our Roadsign should look like in image 1 below: Next, on to the Lamp Post :) Download it here: http://www.sxc.hu/photo/846010 and move it to your Photoshop document. Use the same Eraser tool shaped as Grass from the steps before, delete gently around the base to get something like in image 2 below: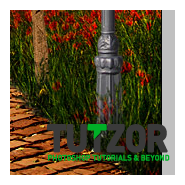 Seiorai
Member since:
Mar 2011
Alright, now name this layer Lamp Post and obtain its selectionthen go to Image--->Adjustments--->Color Balance and give these settings: Midtones: 0/ 0/ -20 Highlights: 0/ 0/ -20 Shadows: 0/ 0/ -52 With Preserve Luminosity checked...of course :) Lower this adjustment layer's opacity to 80%. This is our lamp post now:


Seiorai
Member since:
Mar 2011
....but our Lamp Post is very flat isn't it :( Let us give it a 3D look. Obtain the Lamppost's selection and create a new layer above all others, set your Foreground color to #f8eeb2 and grabbing the good old Gradient Tool, set it to Linear Gradient, Foreground to Transparent. Drag like in image 1 below then set the layer to Soft Light (name this layer "Lamppost Light 1") to obtain a result like in image 2 below:



Seiorai
Member since:
Mar 2011
Obtain its selection again and set your Foreground color to #2c0f12....create a new layer on top of all others, set it to Iverlay mode, lower Fill to 55% and name it "Lamppost shadow". With the same gradient technique as before, drag this time from the right to the left, so that you get a result like below:


Seiorai
Member since:
Mar 2011
Next! Let..there...be..light! Set your Foreground color to #ffcc00 and create a new layer above all others and name it "LampPost Lightsource". Take a soft, round brush of about 100px in size and brush once to create the light source, like in image 1 below...... ...then set it to Linear Dodge and lower its Fill to 35% so that you get a result like in image 2 below: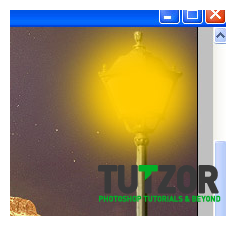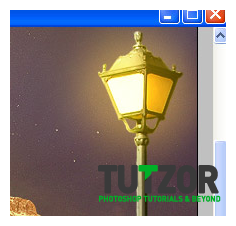 Seiorai
Member since:
Mar 2011
Sweet, we're almost done with the lamp post :) Now just 3 adjustment layers....and ALL of these will go above the Lamppost Lightsource layer. So. Obtain the selection of that bugger of a lamp post, and go to Image---.Adjustments-->Photo Filter, Warming Filter (85), Density 54%, Preserve Luminosity checked. Okay, for the second adjustment layer obtain the lamp post's selection again and go to image--->Adjustments--->Color Balance, with the following settings: Midtones: +32/ 0/ -23 Highlights: +24/ 0/ -19 Shadows: +34/ 0/ -27 Preserve Luminosity: checked................ .............and lower this layer's Opacity to 62% Last one, obtain the selection again and go to Image--->Adjustments--->Brightness/Contrast with these settings to get the result below: Brightness: -11 Contrast: +23 and lower its Opacity to 25%


Seiorai
Member since:
Mar 2011
Alright, we do need to give the Lamp Post a light spot though....so create a new layer, which you will move under all your Lamp-Post-related layers. Then set your Foreground color to #edd184 and with a soft brush brush lightly like in image 1 below: Then set this layer to Color Dodge mode and lower its Fill to 55%. Name the layer "Lamp Post lightspot" An additional step is to obtain its selection and give it an adjustment layer of Image--->Adjustments--->Brightness/Contrast with thesettings of: Brightness: +26 Contrast: 0 Preserve Luminosity: checked. Result should be image 2 below :)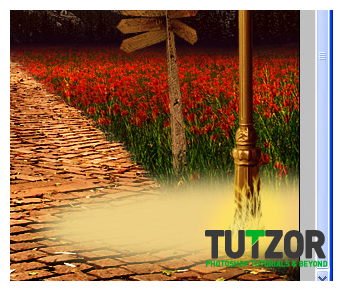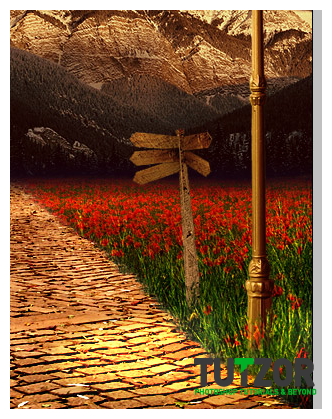 Seiorai
Member since:
Mar 2011
Now! Fine-tuning! Finally hahaha So! First fine-tuning is a Channel Mixer adjustment layer :) In your Layers Palette, go to your Mountain layer. The got to Image---.Adjustments--->Channel Mixer. Give it these settings: Red: 100% Green: -26% Blue: +20% Constant: +14% Here's the difference: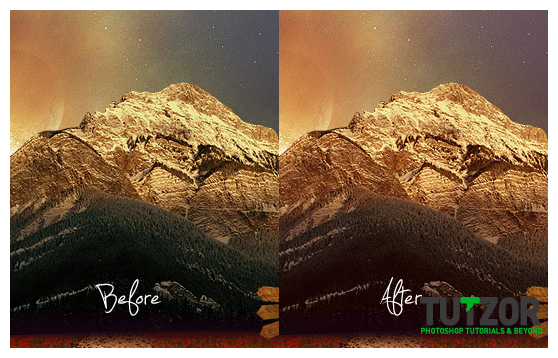 Seiorai
Member since:
Mar 2011
You will also notice that the part of the mountain where we have the planet/moon/sun isn't really shed in light, so let's fix that by creating a new layer between the Mountain one and the Channel Mixer one, right-click on it and choose Create Clipping Mask. Set your Foreground color to #fde8a5 Name this new layer "Sun Light" and take the Gradient Tool, set to Foreground to Transparent and Radial Gradient, so that you get somehting like in image 1 below: The set the layer to Linear Dodge and lower its Fill to 255 for a result like in image 2 below :)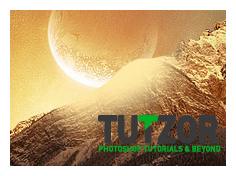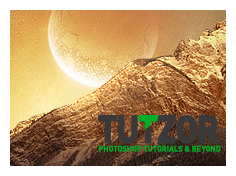 Seiorai
Member since:
Mar 2011
A Hue/Saturation adjustment now, above all our layers. Settings: Master--->Hue: 0...Saturation: -100...Lightness: 0 and Colorize UNCHECKED Set it to Linear Light and lower its Opacity to 7% You will notice it makes our canvas just a tiiiny bit darker, right? Next, create a new layer above all your others. Name it "Image Apply 1". Go to Image-->Apply Image...click OK. Next we'll give it a Filter-->Noise-->Add Noise (Amount: 12,5%, Uniform, NOT Monochromatic) ... ...and a Filter-->Sharpen--->Sharpen. Set the layer to Screen and lower its Opacity to 54% and Fill to 16% You should be getting this result below: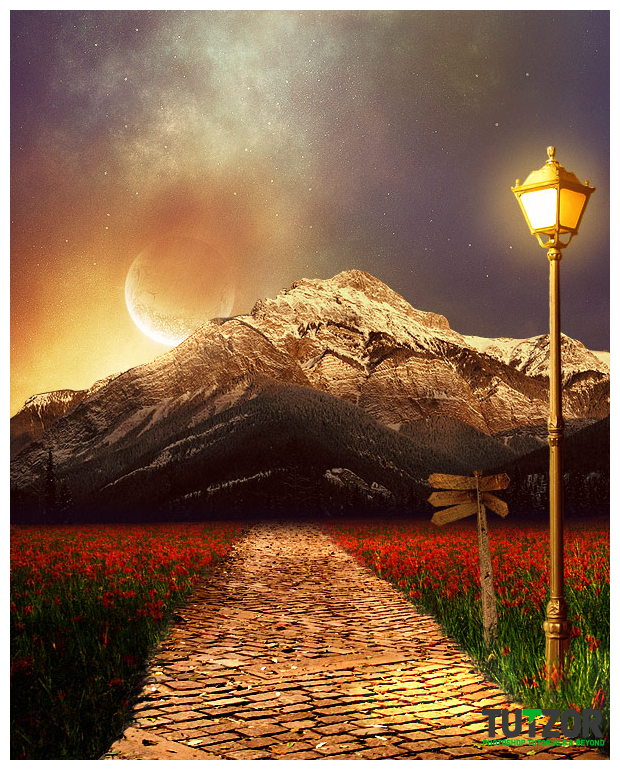 Seiorai
Member since:
Mar 2011
Next in store is a Gradient Map. We will create it above all layers :) Go to Image--->Adjustments--->Gradient Map and give it the gradient shown in image 1 below (mind you, NO Dither and NO Reverse) Then set this layer to Lighten mode and lower its Fill to 5%...to get the result in image 2 below: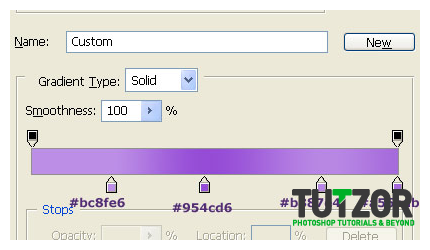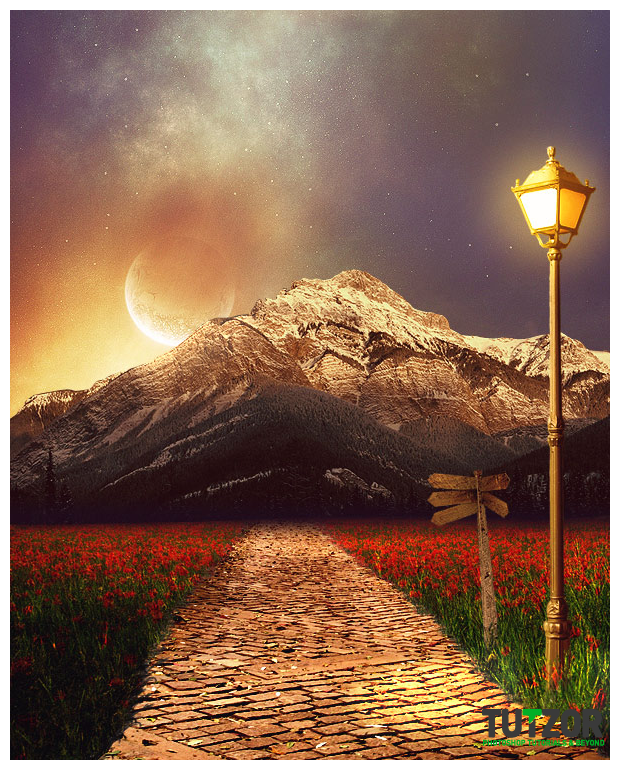 Comments